น้ำมันรำข้าว
Rice bran oil / น้ำมันรำข้าว
น้ำมันรำข้าว (rice bran oil) เป็นน้ำมันพืช (vegetable oil) ที่สกัดได้จากรำข้าว (rice bran) น้ำมันรำข้าว คือ น้ำมันพืชที่ผลิตจากน้ำมันรำข้าวดิบ ซึ่งสกัดจากรำข้าว มีสารต้านอนุมูลอิสระ เช่น วิตามินอี ในกลุ่มโทโคฟีรอลประมาณ 19-40% และกลุ่มโทโคไตรอีนอล 51-81% และโอรีซานอล (Oryzanol) ซึ่งสามารถต้านอนุมูลอิสระได้ดีกว่าวิตามินอีถึง 6 เท่า มีกรดไขมันอิ่มตัว 18% กรดไขมันไม่อิ่มตัวเชิงเดี่ยว (Monounsaturated Fatty Acid : MUFA) 45% กรดไขมันไม่อิ่มตัวเชิงซ้อน (Polyunsaturated Fatty Acid : PUFA) 37% น้ำมันรำข้าวเหมาะสำหรับผู้ที่ต้องการลดคอเลสเตอรอลที่ไม่ดี (LDL-C)
ส่วนประกอบของเมล็ดข้าว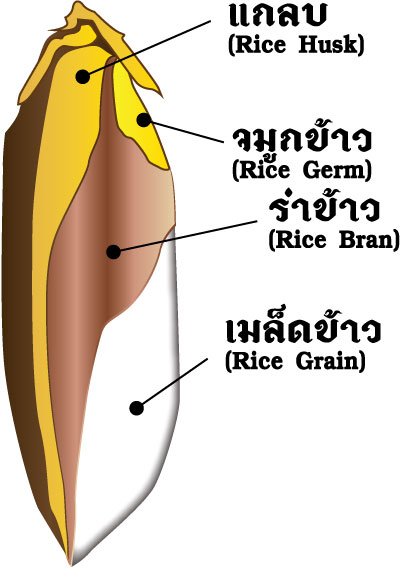 ประโยชน์
ประโยชน์นานาชนิด ซึ่งมีอยู่ในเยื่อหุ้มเมล็ดข้าว (Seed Membrane Layer) และจมูกข้าว (Rice Germ) จึงอุดมด้วยสารสำคัญทางธรรมชาติ และมีคุณค่าสูงต่อร่างกายหลายชนิด เช่น
กลุ่มสารฟอสโฟไลฟิด (Phospholipids) เช่น เลซิติน (Lecithin) เซฟฟาลิน (Cephalin) ไลโซเลซิติน (Lysolecithin) ซึ่งมีความสำคัญในการนำไปสร้าง และซ่อมแซมส่วนที่สึกหรอของเซลล์ประสาทสมอง และช่วยป้องกันเซลล์ประสาท จากสารที่เป็นพิษและอนุมูลอิสระต่างๆ ช่วยลดความเครียด และช่วยเสริมสร้างในด้านความจำ
กลุ่มเซราไมด์ (Ceramide) ซึ่งเป็นส่วนประกอบที่สำคัญของชั้นใต้ผิวหนัง ช่วยทำให้ผิวหนังมีความยืดหยุ่น การเสริมสร้างเซราไมด์ให้เพียงพอ ทั้งโดยการรับประทานหรือการให้ทางผิวหนังในรูปการทาครีม หรือโลชัน จะช่วยรักษาผิวพรรณให้สดใสเปล่งปลั่ง ปราศจากริ้วรอยย่นก่อนเวลาอันควร นอกจากนี้เซราไมด์ยังมีคุณสมบัติเป็นไวท์เทนเนอร์ (Whitener) ซึ่งสามารถยับยั้งการสังเคราะห์เมลานิน อันเป็นสาเหตุให้เกิดฝ้า กระ จุดด่างดำบนผิวพรรณได้ดี และยังเป็นมอยเจอไรเซอร์ (Moisturizer) ให้ความชุ่มชื่นแก่ผิวอีกด้วย
กลุ่มคอลโทคอล (Tocols) วิตามินอีธรรมชาติ ในรูปของโทโคเฟอรอล(Tocopherol) และโทโคไทรอีนอล (Tocotrienol) มีประโยชน์ต่อร่างกายในการสร้าง และซ่อมแซมเซลล์ต่างๆ ของร่างกายและยังช่วยทำให้ร่างกายมีภูมิคุ้มกันต่อโรคต่างๆช่วยต้านอนุมูลอิสระ ซึ่งเป็นเหตุสำคัญของการเกิดโรคมะเร็ง
กลุ่มกรดไขมันไลโนเลอิค (Linoleic Acid) หรือโอเมก้า 6 และ กรดไลโนเลอิค (Linoleic Acid) หรือโอเมก้า 3 ที่เป็นกรดไขมันจำเป็น โดยมีอยู่ประมาณ 33%
กลุ่มวิตามิน B - Complex ซึ่งช่วยให้การทำงานของระบบประสาทดีขึ้น
กลุ่มแกมมา - ออไรซานอล มีฤทธิ์ในการลดระดับคอเลสเตอรอลและไตรกลีเซอไรด์ ทำให้ลดการตีบตันของหลอดเลือด เพิ่มการไหลเวียนของโลหิต และยังมีฤทธิ์ในการลดความเครียด และรักษาอาการผิดปกติของสตรีวัยทอง นอกจากนี้ยังเป็นสารอนุมูลอิสระ และยังป้องกันแสงยูวีได้ เมื่อใช้กินหรือใช้ทา ทำให้ผิวหนังชุ่มชื่นและต้านการอักเสบ สารชนิดนี้มีความปลอดภัยสูงมาก
เปรียบเทียบกรดไขมัน (fatty acid) ในน้ำมันรำข้ากับน้ำมันพืชชนิดต่างๆ 
| | | | | |
| --- | --- | --- | --- | --- |
| Fatty acid (%) | น้ำมันรำข้าว | น้ำมันถั่วลิสง | น้ำมันถั่วเหลือง | น้ำมันเมล็ดฝ้าย |
| Myristic acid (14:0) | 0.2 | 0 | 0.2 | 0.8 |
| Palmitic acid (16:0) | 15.0 | 8.1 | 10.7 | 27.3 |
| Stearic acid (18:0) | 1.9 | 1.5 | 3.9 | 2.0 |
| Oleic acid (18:1) | 42.5 | 49.9 | 22.8 | 18.3 |
| Linoleic acid (18:2) | 39.1 | 35.4 | 50.8 | 50.5 |
| Linolenic acid (18:3) | 1.1 | 0 | 6.8 | 0 |
| Arachidic acid (20:0) | 0.5 | 1.1 | 0.2 | 0.3 |
| Behenic acid (22:0) | 0.2 | 2.1 | 0.1 | 0 |
ttp://www.ricebranoil.info/why/index.html
น้ำมันรำข้าบริสุทธ์ (refined rice bran oil) ที่มีคุณภาพดีต้องมี
กรดไขมันอิสระ ( free fatty acid) ไม่เกิด 0.1%
Peroxide value =  1.0 meq/kg,
ความชื้น (moisture content) ไม่เกิน 0.05%
Iodine value  =  99-108
Saponification value = 180-195
Lovibond color value = 3.5 R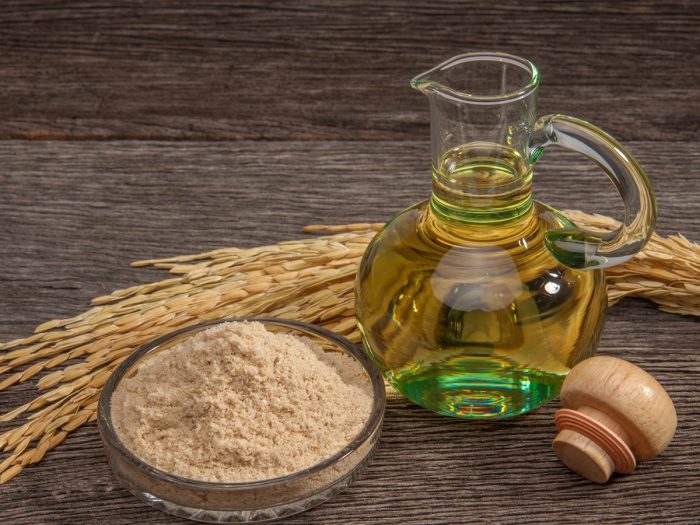 The health benefits of rice bran oil include its ability to help lower cholesterol, boost the immune system, prevent certain types of cancer, improve skin health, promote weight loss, relieve menopausal symptoms, protect heart health, increase cognitive strength, and lower allergic reactions.
ประโยชน์ของน้ำมันรำข้าว
จากงานวิจัยพบว่าร้อยละ90ผู้ป่วยวัยทองเมื่อใช้น้ำมัรำขาวจะมีอาการร้อนตามตัวลดลง
ลดระดับคอเลสเตอร์รอล
องค์การอนามัยโลกและสมาคมโรคหัวใจของอเมริกาแจงว่าส่วนประของกรดไขมันในน้ำมันรำข้าวจะประกอบไปด้วย ไขมันไม่อิ่มตัวเชิงเดี่ยว ไขมันไม่อิ่มตัวเชิงซ้อน และไขมันอิ่มตัวมีอัตราส่วนเหมาะสมซึ่งจะทำให้ลดระดับคอเลสเตอรอลในเลือด ทำให้ลดความเสี่ยงในการเกิดโรคหัวใจและหลอดเลือด
อาจจะป้องกันมะเร็ง
มีการศึกษาว่าน้ำมันรำข้าวจะมีฤทยับยังยั้งการเกิดมะเร็งลำไส้ใหญ่ มะเร็งเต้านม
ชลอวัย
วิตามินอีในน้ำมันรำข้าวจะมีผลต่อสุขภาพผิวหนังโดยลดสารอนุมูลอิสระที่ทำให้ผิวแก่ก่อนวัย นอกจากนั้นยังทำให้แผลหายเร็ว ลดรอยย่น ผิวเรียบมากขึ้น
ป้องกันภูมิแพ้
น้ำมันรำข้าวเป็นน้ำมันที่แพ้น้อย และยังลดอาการแพ้จากสารภูมิแพ้อื่นๆ
What is Rice Bran Oil?
Rice bran oil is an increasingly popular vegetable oil that offers many advantages over standard vegetable oils that millions of people commonly cook with all over the world. [1] Rice is one of the most widely available and popular foodstuffs on the planet, and rice bran oil is extracted from the germ and the husk of rice kernels. [2]
It has a very high smoke point, which is why it is commonly used in high-temperature cooking methods, such as stir-frying and deep frying. In terms of similarity to other vegetable oils, it has a similar composition to that of peanut oil and is healthier than many oils.
Rice bran oil is most commonly used in Asian cultures, including Japan and China, primarily because rice is already a staple food in their cuisines. However, rice bran oil is becoming increasingly popular in other parts of the world because of its relatively low price point and the many health benefits that come from using it in food preparation. [3]
It is most widely praised for its content of vitamin E, ideal fatty acid balance, antioxidant capacity, and cholesterol-lowering abilities. Let's look a bit closer at some of the health benefits that you can get from rice bran oil.
sunburn

20 Effective Home Remedies for Sunburn

Home remedies for sunburn include application of aloe vera, oatmeal water, potato, lemon juice, s...

. Vitamin E also helps boost the protective quality of skin cells, keeping foreign toxins and pathogens from entering through the skin.

Rice Bran Oil

A fairly new kid on the block and a fast rising favourite amongst the manufacturers, rice bran oil is made from the outer layer (bran) of the grain of rice. Health experts claim that it's the healthiest oil on the planet. While I cannot vouch for that, I do know that while trying it out on my food show series, called Guilt Free, the taste did not clash with Indian food and it worked pretty well in cookies and cakes.

Apparently, rice bran oil has a chemical called oryzanol which is good for your cholesterol. It is high in monounsaturated fats and has a fair amount of polyunsaturated fats too, both the good type of fats. Since it has a high smoking point, it works well for deep frying chips and all.