Butter หรือ เนยเทียม Magarine
เป็นอาหารที่ให้ไขมันสูงไม่เหมาะที่จะรับประทานเพราะทั้งButter หรือ เนยเทียมMagarine จะทำให้ไขมันในเลือดสูงและเกิดโรคหัวใจ หากจะเลือกเนยเทียมต้องเลือกชนิดเหลว
จะเลือกใช้เนยButter หรือ เนยเทียม Magarine
เนย Butter
วิธีการทำเนยหรือ Butter จะทำโดยการเตรียมจากน้ำนมดิบ 20 ลิตรจะได้เนย 1 กิโลกรัม ส่วนที่เหลือประมาณ 18 ลิตรจะนำไปเลี้ยงสัตว์ เพราะฉนั้นเนยก็คือน้ำนมที่เข้มข้น ส่วนประกอบของ Butter ได้แก่ Cholesterol และไขมันอิ่มตัว Saturated fat ร้อยละ 50 ซึ่งไขมันทั้งสองชนิดเป็นไขมันที่ไม่ดี และมีปริมาณ trans fatร้อยละ 4 หากรับประทานมากจะทำให้ไขมันในเลือดสูง ซึ่งจะเป็นปัจจัยเสี่ยงทำให้เกิดโรคหลอดเลือดหัวใจขาดเลือดเพิ่มขึ้น
เนยเทียม Magarine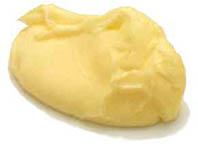 เป็นเนยที่เตรียมจากน้ำมันพืชโดยมีส่วนประกอบเป็นไขมันร้อยละ80 เป็นน้ำและของแข็งร้อยละ 20 โดยมีไขมันอิ่มตัวร้อยละ  28 ปริมาณ trans fat น้อยกว่าร้อยละ 1 และมีการเติมวิตามินเอและดี เพื่อให้มีคุณค่าใกล้เคียงกับเนยที่ทำจากสัตว์ ปัจจุบันจะใช้น้ำมันถั่วเหลือง หรือน้ำมันข้าวโพดเป็นวัตถุดิบสำหรับการทำ Magarine น้ำมันที่ได้จากการสกัดจะนำมาแต่งกลิ่น สี รส เติม เกลือ Lecithin แล้วจึงนำส่วนผสมไปทำให้ร้อน คนให้เข้ากันแล้วปล่อยให้เย็น Magarine ที่เป็นของเหลวจะมี Hydrogen น้อยกว่า Magarine ที่เป็นของแข็ง นั้นก็หมายถึง Magarine ที่เป็นของเหลวามปริมาณ Trans fatty acid น้อยกว่าด้วย ปัจจุบันคนหันมานิยมรับประทาน Magarine กันมากขึ้นเนื่องจากราคาถูกกว่า และมีปริมาณไขมันอิ่มตัวน้อยกว่า ควรจะเลือกน้ำมันพืชแทนจะดีกว่า หรือหากจะใช้ magarine ก็ควรเลือกชนิดเหลวเพราะมี Trans fatty acid น้อยกว่าชนิดแข็ง
จะเลือก Butter หรือ Magarine
ดังที่กล่าวข้างต้นเนยจะมี Cholesterol และไขมันอิ่มตัว Saturated fat ส่วนMagarine ประกอบไปด้วยไขมันอิ่มตัวบางส่วนและ Tran fatty acid ซึ่งไม่เป็นผลดีต่อสุขภาพ หากจะเลือกควรจะเลือกเนยแทนMagarine แต่ก็มีข้อแนะนำดังนี้
ให้ใช้น้ำมัน canola หรือ olive oil แทน Butter หรือ Magarine เนื่องจากน้ำมันทั้งสองมีmonounsaturated fat สูงซึ่งเป็นประโยชน์ต่อร่างกาย
หากจะใช้ Magarine ควรเลือกชนิดเหลวมากกว่าชนิดแข็งเพราะชนิดเหลวมีน้ำมัน tran fatty acid น้อยกว่า
เลือก Magarine ที่ทำจากน้ำมันพืชเช่น ถั่วเหลือง น้ำมันมะกอกเป็นต้น
ควรจะเลือก Magarine ที่มีปริมาณ trans fat ต่ำ

เราจะรู้ได้อย่างไรว่าเรารับประทานอาหารไขมันมากน้อยแค่ไหน
ไขมันที่เรารับประทานจะแบ่งออกเป็นสองส่วนได้แก่
ไขมันที่เรามองเห็นเช่น กะทิ เนย Magarine ขาหมู ครีม หมูสามชั้น ของทอดเช่น ปลาท่องโก๋ ไก่ทอด ฯลฯ
ไมันที่เป็นส่วนประกอบของอาหารเช่น ขนมปัง Biscuit ,cakes, croissants, pates, nuts and seeds, coconut, sauces, cheese, chocolate, pastry's, chips,ข้าวมันไก่ ข้าวขาหมู แกงกะทิ
วิธีการลดไขมัน
จะพบว่าทั้ง butter cheese magarine ล้วนให้ผลเสียต่อสุขภาพ เราควรจะหลีกเลี่ยงหากจำเป็นต้องใช้ก็ใช้น้ำมันพืชเช่นน้ำมันมะกอก ถั่วเหลือง ข้าวโพด หรือ magarine ชนิดเหลว
ให้ดึงหนังออกจากอาหารที่เราจะปรุง เช่นหนังไก่ หนังหมู
หลีกเลี่ยงอาหารทอด ใช้ปิ้ง ย่างหรือนึ่งแทน
ดื่มนมพร่องมันเนยแทนนมสด
ไม่ควรทาเนยหรือ Magarine บนขนมปัง
ไม่ควรผสมเนยและน้ำตาลด้วยกันเพราะน้ำตาลจะทำให้ร่างกายเราหลั่งอินซูลิน อินซูลินจะทำให้เซลล์ของเราเก็บไขมันมากขึ้น
ก่อนปรุงอาหารให้เลาะเอาไขมันออกให้หมด
ให้ cheese or yoghurt แทนครีม
ให้ลอกหนังไก่หรือหนังหมูก่อนการหมักเพื่อให้เนื้อมีรสอร่อย
ถ้าเป็นไปได้ควรจะงดพวก butter cheese โดยใช้น้ำมันพืชแทน
เนยที่ทำจากนมวัวที่เลี้ยงด้วยหญ้ามีคุณค่าอาหารสูง
คุณภาพของนมวัวขึ้นกับอาหารที่วัวรับประทาน วัวที่รับประทานหญ้าจะมีคุณค่าอาหารสูง
มีVitamin K2 ซึ่งเป็นวิตามินที่ป้องกันโรคมะเร็ง กระดูกพรุน โรคหัวใจ
มีกรดไขมัน CLA ที่มีฎทธฺ์ต้านมะเร็งและลดปริมาณไขมัน
มีสาร Butyrate ซึ่งจะลดการอักเสบ ช่วยย่อยอาหาร และลดน้ำหนัก
Omega-3 นมวัวจะมี Omega-3 มากซึ่งจะลดการเกิดโรคหัวใจ
ไขมันในเลือดสูง จะเลือก butter หรือ magarine ถั่วต่างๆ ไขมันที่ดีและไขมันที่ไม่ดี การลดไขมัน น้ำมันปลา ปริมาณไขมันในอาหาร
Butter vs. Margarine: Which Is Healthier?
A massive amount of nutrition misinformation exists on the internet.
Some of it is based on poor research or incomplete evidence, while other information may simply be outdated.
The professionals themselves may even tell you things that seem to directly contradict something you read the other day.
A good example of a subject no one seems to agree upon are the health effects of butter and margarine.
This article compares the two, looking at both sides of the debate.
Butter is a traditional dietary staple made by churning cream.
It's mainly used as a frying fat, spread or component of sauces, cakes and pastries.
As a concentrated source of milk fat, it's mostly composed of saturated fat.
Because of studies associating a high intake of saturated fat with an increased risk of heart disease, public health authorities started recommending that people limit their consumption of butter in the 1970s.
Margarine is a processed food that is designed to taste and look similar to butter. It is often recommended as a heart-healthy replacement.
Modern types of margarine are made from vegetable oils, which contain polyunsaturated fats that can lower the "bad" LDL cholesterol when used instead of saturated fat.
Since vegetable oils are liquid at room temperature, food scientists change their chemical structure to make them solid like butter.
For the past few decades, a process known as hydrogenation has been used to harden the vegetable oils in margarine.
Hydrogenation increases the oil's saturated fat content, but unhealthy trans fats are formed as a side product (1Trusted Source ).
A more recent process called interesterification achieves similar results without forming any trans fats (2Trusted Source ).
In addition to hydrogenated or interesterified vegetable oils, modern margarine may contain several food additives, including emulsifiers and colorants.
Put simply, modern margarine is a highly processed food product made from vegetable oils, while butter is basically concentrated dairy fat.
SUMMARY

Butter is a dairy product made by churning cream. Conversely, margarine is a product designed to imitate butter. While butter is mainly composed of dairy fat, margarine is typically produced from vegetable oils.
Butter may contain several nutrients not found in many other foods.
For example, butter from grass-fed cows may provide some vitamin K2, which has been associated with improved bone health (3Trusted Source , 4Trusted Source ).
In fact, butter from grass-fed cows appears to be a better source of many nutrients than butter from cows fed grains.
Grass-Fed Butter is Nutritious
The health effects of butter largely depend on the diet of the cows it came from.
Cows eat grass in their natural environment, but in many countries, their menu is largely based on grain-based feeds.
Butter from grass-fed cows is much more nutritious. It contains more:
Nonetheless, butter is generally consumed in small amounts, and its contribution to the total dietary intake of these nutrients is low.
SUMMARY

Butter from grass-fed cows contains much greater amounts of heart-healthy nutrients than butter from grain-fed cows.
Some experts are worried about the large amounts of saturated fat and cholesterol in butter and advise people to limit their intake.
High in Saturated Fat
For decades, butter has been demonized for its high saturated fat content.
It's composed of around 50% saturated fat, while the rest is mainly water and unsaturated fat.
Observational studies investigating the association between saturated fat and heart disease have provided mixed results (1Trusted Source , 15Trusted Source , 16Trusted Source , 17Trusted Source , 18Trusted Source ).
A recent review of studies concluded that eating less saturated fat is linked to a 17% reduced risk of heart disease when it's replaced with polyunsaturated fat (19Trusted Source ).
Conversely, switching saturated fat out for carbs or protein appears to have no effects (19Trusted Source ).
As a result, some experts doubt that saturated fat intake is really a cause for concern. Others are still convinced that excessive saturated fat intake is a risk factor for heart disease (20Trusted Source ).
In fact, health authorities have advised people to limit their saturated fat intake for decades.
Proponents of this popular opinion often point to studies showing that saturated fat increases levels of "bad" LDL cholesterol.
While it's true that saturated fat promotes higher levels of LDL cholesterol, the story is a bit more complex (21Trusted Source ).
Interestingly, some scientists believe that eating saturated fat may actually have some benefits, including improving the blood lipid profile.
It may raise "good" HDL cholesterol and change LDL cholesterol particle size from small and dense to large, which is considered more benign (22Trusted Source , 23Trusted Source , 24Trusted Source ).
No strong evidence supports claims that a high intake of butter or other dietary sources of saturated fat are directly responsible for heart disease (25Trusted Source ).
However, more high-quality research is needed before scientists can fully understand saturated fat metabolism and its relevance to heart health.
SUMMARY

High intake of saturated fat has been linked to an increased risk of heart disease, but the evidence is inconsistent. The issue is one of the most controversial in nutrition science.
High in Cholesterol
Butter is also high in cholesterol.
A high intake of cholesterol was once thought to be a major risk factor for heart disease.
This concern was based on studies showing that high blood levels of cholesterol were associated with an increased risk of heart disease (26Trusted Source ).
However, it's now clear that getting moderate amounts of cholesterol from the diet doesn't raise its blood levels in most people. The body compensates by producing less.
Normally, this keeps its blood levels in the normal range, although a very high intake may still cause a moderate rise in blood cholesterol levels (27Trusted Source , 28Trusted Source , 29Trusted Source ).
Public health authorities have advocated low-cholesterol diets for decades.
These guidelines especially apply to people with familial hypercholesterolemia, a genetic condition that causes abnormally high blood cholesterol levels (30Trusted Source ).
Nevertheless, dietary strategies seem to have a limited effect in this group (31Trusted Source ).
Scientists continue to debate the role of dietary cholesterol in heart disease, but the concerns have been decreasing in recent years (29Trusted Source , 32Trusted Source ).
SUMMARY

Butter is high in cholesterol. However, it has limited effects on blood cholesterol levels in most people.
The health benefits of margarine depend on what kind of vegetable oils it contains and how it is processed.
May Be High in Polyunsaturated Fat
Most types of margarine are high in polyunsaturated fat. The exact amount depends on what vegetable oils were used to produce it.
For example, soybean oil-based margarine may contain approximately 20% polyunsaturated fat (33Trusted Source ).
Polyunsaturated fat is generally considered healthy. It may even have benefits for heart health when compared to saturated fat.
Case in point, replacing saturated fat with polyunsaturated fat has been associated with a 17% reduced risk of heart problems, but no significant effect on the risk of death from heart disease (34Trusted Source , 35Trusted Source ).
SUMMARY

Margarine is often rich in polyunsaturated fat. Studies show that eating polyunsaturated fat instead of saturated fat may reduce the risk of heart problems.
May Contain Plant Sterols and Stanols
Some margarines are enriched with phytosterols or stanols. Vegetable oils are also naturally rich in these compounds.
Phytosterol-enriched margarines lower total and "bad" LDL cholesterol, at least in the short term, but they may also decrease "good" HDL cholesterol (36Trusted Source , 37Trusted Source ).
However, most studies haven't detected a significant association between total phytosterol intake and heart disease risk (38Trusted Source , 39Trusted Source ).
It's important to stress the difference between risk factors and hard outcomes.
SUMMARY

Vegetable oil-based margarine is often rich in phytosterols. While phytosterols may reduce the levels of LDL cholesterol, they don't seem to affect heart disease risk.
Although margarine may contain some heart-friendly nutrients, it often contains trans fat, which has been associated with an increased risk of heart disease and other chronic health issues (1Trusted Source ).
May Be High in Trans Fats
Vegetable oils are not solid at room temperature like butter.
To make them solid for use in margarine, food scientists chemically change their structure using a process known as hydrogenation.
This involves exposing the oils to high heat, high pressure, hydrogen gas and a metal catalyst.
Hydrogenation changes some of the unsaturated fat into saturated fat, which is solid at room temperature, and also increases the product's shelf life.
Unfortunately, trans fat is formed as a side product. A high intake of industrial trans fats has been linked to an increased risk of chronic disease (1Trusted Source ).
For this reason, health authorities strongly advise people to limit their consumption of it.
Additionally, the FDA is implementing a ban on trans fat in all processed foods, although food producers can apply for an exception.
As a result, many food producers have started using a new technique to harden the vegetable oils in margarine.
This method is called interesterification. It replaces some of the unsaturated fats in the oil with saturated fat (2Trusted Source ).
Interesterified vegetable oils are considered healthier than hydrogenated oils because they contain no trans fats.
If you prefer margarine over butter, try to select trans-fat-free varieties. If it says "hydrogenated" anywhere on the ingredients list, avoid it.
SUMMARY

Many margarines are high in trans fat, which is linked to an increased risk of chronic disease. However, because of negative publicity and new laws, trans-fat-free margarines are becoming increasingly common.
May Be High in Omega-6 Fat
Many types of polyunsaturated fats exist.
They are often divided into categories based on their chemical structure. Two of the most common are omega-3 and omega-6 fats.
Omega-3 fats are considered anti-inflammatory, meaning they act against inflammation. Conversely, eating too much omega-6 fat may promote chronic inflammation.
Based on ancestral diets, the optimal ratio of omega-6 to omega-3 is estimated to be around 1:1.
If this ratio has any health relevance, people are eating far too much omega-6 fat today. In fact, the ratio is estimated to be as high as 20:1 in developed countries (40Trusted Source ).
Observational studies have linked a high intake of omega-6 fat to an increased risk of obesity and chronic diseases, such as heart disease and inflammatory bowel disease (41Trusted Source ).
However, analyses of controlled studies conclude that linoleic acid — the most common omega-6 fat — doesn't affect blood levels of inflammatory markers (42Trusted Source , 43Trusted Source ).
Because of this inconsistency, it's unclear whether a high intake of omega-6 fats is really a cause for concern. More research is needed.
Vegetable oils that are especially high in omega-6 fat include sunflower, corn, soybean and cottonseed oils.
If you are worried about eating too much omega-6 fat, avoid eating margarine containing these oils.
SUMMARY

Margarine is often very high in polyunsaturated omega-6 fatty acids. Some scientists believe excessive omega-6 intake may promote inflammation, but controlled studies do not support this theory.
Butter and margarine look similar and are used for the same purpose in the kitchen.
However, their nutritional profiles differ. While butter is high in saturated fat, margarine is rich in unsaturated fat and sometimes trans fat.
The health effects of saturated fat are highly controversial, and its role in heart disease has been downplayed in recent years.
Conversely, scientists agree that trans fats, which are found in some margarines, raise the risk of chronic disease. For this reason, trans-fat-free margarines are becoming increasingly common.
If you prefer margarine over butter, make sure to choose trans-fat-free brands and select products made with healthy oils, such as olive oil.
If butter is your favorite, consider buying products made from grass-fed cow's milk.
In the end, there is no clear winner, but I personally prefer foods that are less processed, like butter.
Whatever you choose, consume these products in moderation.
Is margarine more healthful than butter?
The debate about whether margarine or butter is more healthful is ongoing. Both products seem to have advantages and disadvantages for health.
Butter is a dairy product that manufacturers make by churning cream or milk to separate the solid components from the liquid. People commonly use butter in cooking, baking, and as a spread.
Margarine is a substitute for butter. Manufacturers make margarine from plant-based oils, such as canola oil, palm fruit oil, and soybean oil.
Although butter and margarine have different components, both can contain large amounts of different fats. Not all fats are damaging to health, however, and saturated fats may not be as harmful as researchers once thought, according to one 2018 articleTrusted Source . This remains controversial.
That said, consuming excess fat can increase body weightTrusted Source  and raise the risk of obesity. Obesity is a risk factor for heart disease. Heart disease is the most common cause of deathTrusted Source  worldwide. Making the best dietary choices is one way to preserve the health of the heart and blood vessels.
In this article, we discuss the pros and cons of margarine and butter. We also cover which is better for the heart.
The decision of whether to choose butter or margarine depends on the specific dietary needs of the individual.
When the medical community decided that butter was not healthful due to its "bad" saturated fat content, food scientists worked to create margarine from plant oils, which they considered to be more healthful.
The margarine making process is known as hydrogenation. This process transforms liquid vegetable oil into a solid substance at room temperature. However, research eventually found that trans fats — which margarine contains — raise low-density lipoprotein (LDL), or "bad," cholesterol levels and reduce the levels of high-density lipoprotein (HDL), or "good," cholesterol.
Margarine therefore developed a reputation for containing a collection of harmful chemicals.
However, producers have now largely eliminated human-made trans fats from the food supply. This came after the Food and Drug Administration (FDA) ruled in 2015Trusted Source  that manufacturers should phase these out of products over the following 5 years.
The differences between butter and margarine
The most important difference between the two is that butter is derived from dairy and is rich in saturated fats, whereas margarine is made from plant oils. It used to contain a lot of trans fats, but as mentioned above, manufacturers have now started phasing these out.
The 2017 American Heart Association (AHA) presidential advisoryTrusted Source  suggests that saturated fat raises LDL cholesterol levels due to its effects on overall levels of cholesterol in the arteries.
However, saturated fat increases LDL cholesterol levels less than trans fats, and it does not affect HDL.
There is no 100% healthful option when it comes to butter or margarine. However, a person can choose the most beneficial option for their diet and needs.
To do so, they can look for margarine with the lowest amount of trans fat, preferably 0 grams (g), and check the ingredients label for partially hydrogenated oils.
Also, be aware that food companies can claim that a product contains zero trans fats if it contains less than 0.5 g per serving. If the margarine contains partially hydrogenated oils, it will contain trans fat, even if the label claims that it has 0 g.
When buying butter, people should try to choose grass-fed varieties, if possible.
Adding butter or margarine to a meal or recipe adds calories that people may not necessarily consider. However, these ingredients can also serve an important purpose in a meal as a fat source.
The body needs fat to function and absorb nutrients. Fat also provides a feeling of satiety. Eating a meal without any fat means that people are likely to feel hungry again shortly after.
Another concern for many people is the cholesterol content of butter. Only animal products contain cholesterol. Most margarine contains little or no cholesterol, whereas butter contains a significant amount of cholesterol.
Some people may need to follow a cholesterol-controlled diet as a lifestyle change to manage heart disease or hypercholesterolemia. Those who need to consume less cholesterol may benefit from switching from butter to margarine.
There are still controversies and differing medical perspectives regarding whether butter is more or less healthful than margarine.
One 2017 studyTrusted Source  measured the effect of saturated fat intakes from cheese and butter on LDL cholesterol levels in 92 people with abdominal obesity.
Both the cheese and butter test diets increased LDL cholesterol more than the other low fat, high carbohydrate test diets, a high polyunsaturated fat plan, and a plan high in monounsaturated fat.
However, there was no impact on markers of inflammation, blood pressure, or insulin or glucose levels between all of the tested diets. These markers are typically higher than usual in people at risk of cardiovascular disease.
Another 2018 studyTrusted Source  compared the effects of three diets on cardiovascular disease risk factors. These diets contained extra virgin coconut oil, extra virgin olive oil, or butter.
The study leaders recruited healthy adults to use 50 g of one of these fats daily for 4 weeks. Butter increased LDL cholesterol more than either olive oil or coconut oil. However, none of the three test diets led to changes in body weight, body mass index (BMI), abdominal fat, fasting blood sugar, or blood pressure.
The authors therefore concluded that factors other than the type of fat require investigation when considering dietary fat intake and its relationship to human health.
A 2019 studyTrusted Source  in the American Journal of Clinical Nutrition compared the effects of oil-based margarine and butter on blood lipid levels in people with and without obesity.
The results revealed lower LDL levels in all the participants who used oil-based margarine instead of butter. Those with obesity showed less of an improvement in LDL levels than those within the ideal BMI range.
Another 2019 comprehensive reviewTrusted Source  evaluated the evidence that a Mediterranean-style diet would help prevent or treat cardiovascular disease.
The authors analyzed results from multiple studies and concluded that no high quality evidence exists to support the effectiveness of a diet higher in unsaturated fats for preventing or treating heart disease.
One tablespoon of unsalted butter weighing 14.2 gTrusted Source  contains:
102 calories
11.5 g of fat
7.17 g of saturated fat
30.5 milligrams of cholesterol
0 g of carbohydrates
0 g of sugar
Butter consists of pasteurized creamTrusted Source . Sometimes, manufacturers also add salt. In countries where cows eat grass, butter consumption has associations with a dramatic reduction in heart disease risk.
This may be because grass-fed dairy products are much higher in omega-3 fatty acidsTrusted Source , which are important for heart health.
Regular or non-grass-fed butter contains significantly less, if any, of these nutrients.
Margarine can contain a range of ingredients. Manufacturers add salt and other compounds to margarine to keep the flavor and texture enjoyable for the consumer. These include maltodextrin, soy lecithin, and mono or diglycerides.
They may also use olive oil, flaxseed oil, and fish oil in the production process. Some margarine producers might add vitamin A and salt. However, many types of margarine are free from artificial flavors and preservatives.
Some types of margarine are for use as a spread only, and people should look for alternatives when baking or cooking.
People with soy, dairy, or other allergies or sensitivities need to read the labels and compare brands to find the margarine that best suits their needs and preferences.
The sections below look at three different types of margarine.
Stick margarine
One tablespoon of unsalted stick margarine weighing 14.2 gTrusted Source  contains:
102 calories
11.5 g of fat
2.16 g of saturated fat
0 g of cholesterol
0 g of carbohydrates
0 g of sugar
This type of margarine may contain slightly fewer calories than butter, but some products may contain trans fats.
Light margarine
Per tablespoon, light margarine or margarine-like spread providesTrusted Source :
50 calories
5.42 g of fat
0.67 g of saturated fat
0 g of trans fat
0 g of cholesterol
0.79 g of carbohydrates
0 g of sugar
Light margarine contains a higher percentage of water than traditional margarine, making it lower in calories and fat. Even though it contains less saturated fats than regular margarine, it may still contain some partially hydrogenated oils.
Margarine with phytosterols
Some types of margarine contain plant compounds called phytosterols.
Phytosterols are similar in structure to cholesterol. As a result, they compete with cholesterol for absorption in the body, reducing how much cholesterol the body absorbs. This may bring down levels of blood cholesterol. Margarine with phytosterols contains a blend of oils, such as olive oil or flaxseed oil.
However, a 2011 editorial in the journal Cardiovascular Research suggested that phytosterols may have their own harmful effects on the walls of blood vessels.
The long-running debate about whether butter or margarine is the best choice for health may continue for some time. However, this may not actually benefit the overall discussion about nutrition and health in the long run.
Each person's body may respond differently to dietary fats based on genetic tendencies, their current health status, sex, and their overall nutritional pattern.
Butter can raise LDL cholesterol, but some studies do not seem to confirm that it adversely affects other risk factors for heart disease or stroke. Also, health experts no longer see oil-based margarine as damaging to health, and it does seem to lower LDL cholesterol.
More recent studies show that they do not affect other risk factors for heart disease or stroke.
The calories in both butter and margarine can add up with regular use in large servings. People following a weight-controlled diet should try to manage total calorie intake. This involves extra consideration when considering spreads and cooking or baking materials.
Many other factors, such as lifestyle and genetics, play a role in the development of cardiovascular disease. The best advice may be to focus on the lifestyle changes that are possible to make to improve overall health and well-being, rather than focusing on a single dietary component.
Having moderate amounts of both butter and margarine on-hand, and alternating margarine with grass-fed butter, might allow a person to reap the benefits of both without contributing to excessive total fat intake.
Butter contains a lot of artery-clogging saturated fat, and margarine contains an unhealthy combination of saturated and trans fats, so the healthiest choice is to skip both of them and use liquid oils, such as olive, canola and safflower oil, instead.
However, even dietitians understand that some foods benefit greatly from a little buttery flavor; it wouldn't be realistic to suggest that you give up butter and margarine altogether. If you want to use one or the other on occasion, margarine is the healthier choice overall – as long as you choose the right type of margarine.
Margarine comes in stick, tub and liquid forms now, and not all of them are created equal. Some stick margarines may be no better than butter in terms of their health effects. The best choices are soft or liquid margarines that have no (or very little) trans fat and less than 3 grams of saturated fat per serving.
Understanding the pros and cons of each option can help you make informed choices about what to use and how often (or seldom) to use it.
 

Butter
(1 Tbsp)

Stick Margarine
(1 Tbsp)

Soft/Tub Margarine
(1 Tbsp)

Canola Oil
(1 Tbsp)

 Calories

 100

 100

 60

 120

 Total fat

 11 g

 11 g

 7 g

 14 g

 Saturated fat

 7 g

 2 g

1 g 

 1 g

 Trans fat

 0 g

 3 g

0.5 g 

 0 g

 Cholesterol

 30 mg

 0 mg

0 mg 

0 mg 
(Source: Food and Drug Administration; calories and info on canola oil added)
Butter
Pros: Butter is generally natural, made from just one or two ingredients: cream, and sometimes salt.
Cons: Cream – also known as milk fat – contains both saturated fat and cholesterol, the two dietary ingredients that raise blood cholesterol and increase the risk of heart and vascular diseases. A single tablespoon of butter contains 7 grams of saturated fat – that's a third to a half of a day's recommended amount! One tablespoon of butter also contains a whopping 100 calories.
Bottom line: Save butter for special recipes and occasions, and even then, use it sparingly.
Stick margarine
Pros: Margarine is much lower in saturated fat than butter, and it is made from vegetable oils, so it contains no cholesterol.
Cons: Although it is lower in saturated fat, stick margarine still contains about the same amount of total fat and calories as butter.
In addition, the vegetable oil in many margarines goes through a process called hydrogenation (or partial hydrogenation), which adds hydrogen to the oil to solidify it into a stick or spread. This process creates trans fat, which is even worse for you than saturated fat. Trans fat raises LDL (bad) cholesterol significantly – much more than saturated fat does. It also lowers HDL cholesterol, the good cholesterol that helps prevent LDL cholesterol from building up in your arteries. The harder the margarine, the more trans fat it contains. (Note: Although some butters also contain scant amounts of trans fats, these are naturally occurring and probably don't have the same effect in the body as trans fats created through hydrogenation.)
Margarine also contains high levels of omega-6 fatty acids, nutrients that are essential in a balanced diet, but that may cause problems in high quantities when they are not balanced with omega 3 fatty acids. While the ideal balance of omega 6 to omega 3 fatty acids ranges from 1:1 to 4:1, Americans today consume a ratio that is closer to 14:1 to 20:1. The sharp increase in omega 6 fatty acids in the last century is due mainly to our increased consumption of processed oils and the snacks, baked goods and packaged foods that contain them. Several studies suggest a link between our increasing consumption of omega-6 fatty acids and the steep rise in rates of heart disease, type 2 diabetes, depression and other diseases in the U.S.
Bottom line: Steer clear of stick margarines. There are many alternatives that reduce or eliminate trans fats and are much healthier – read on.
Tub and liquid margarine
Pros: Soft tub and liquid margarines contain less trans fat than harder stick margarines. They also are lower in saturated fat and calories than stick margarine or butter. And like other margarines, they are cholesterol free. Newer options are available that are trans-fat free, and some brands are now enriched with plant sterols, which block the absorption of cholesterol and can help lower LDL cholesterol.
Cons: Like stick margarines, tub and liquid margarines contain high levels of omega-6 fatty acids. They may still contain some trans fat, as well. Manufacturers are allowed to claim "0 trans fat" on their Nutrition Facts labels even if their products have up to half a gram of trans fat per serving.
Bottom line: Tub and liquid margarines are a healthier choice than butter or stick margarine. Read labels carefully to look for the healthiest choices. If you are trying to minimize trans fat in your diet, check the ingredients list as well as the Nutrition Facts label. If partially hydrogenated oil is listed, it contains trans fat.
Olive, canola and safflower oil
Pros: These natural oils are rich in heart-friendly monounsaturated and polyunsaturated fats, and they contain a healthy balance of omega-6 fatty acids and heart-healthy omega-3 fatty acids, as well.
Cons: Even though these are mostly healthy fats, they are still fats, which means they are extremely high in calories, packing a whopping 120 calories per tablespoon – even more than butter.
Bottom line: Olive, canola and safflower oils are healthier choices overall than butter and most margarines. Use them as replacements for butter and margarine in most of your cooking, but watch the amounts – those fat calories can add up fast.
A toast to better health
When you switched from butter to margarine the first time around, you probably tasted several brands before you found one you liked. Now that you are considering switching again, try another taste test.
Several healthier margarine choices have shown up on grocers' shelves in recent years. Pick out a few to try, or ask for recommendations from people who have already made the switch. Then invite some friends, family members or neighbors over, toast up some healthy, whole-grain bread, and compare the flavors of your different spreads. There's bound to be at least one that passes your "toast test."
Continue to watch for new products and try new things periodically. Public concern about trans fat is prompting many manufacturers to explore new ways to remove trans fats from stick margarines, and even to reduce the saturated fat in butter. Oils are getting attention, too, such as the new diglyceride-rich oil "Enova," which is metabolized differently, reducing the amount of oil that is stored as fat in the body.
There are a lot of options out there, and a lot more to come. If you choose the healthier options most of the time, you'll still have room for the occasional dab of butter on your summer corn.
Margarine vs. Butter: What's the Difference?
 Reviewed by Poonam Sachdev  on June 22, 2021
‌Margarine and butter are both yellow, available as sticks or spreads, and used for cooking and baking. But when you start to break it down, margarine and butter are made of different ingredients, provide different health benefits, and are even used differently in the kitchen.
Butter is made from heavy cream. It contains higher levels of saturated fat, which can lead to several risks. 
Margarine is made from vegetable oils. It contains unsaturated fats that serve as "good" fats in the body. Margarine comes in many forms, and each one has its downsides.
The Truth Is In The Fat
‌The main topic that gets tossed around in the conversation about butter and margarine is "fat." Foods can have good and bad fats. Knowing how these fats affect you can help you make an informed choice between butter and margarine.
Margarine's "good" fats. Margarine's vegetable oils contain unsaturated fats, which are divided into polyunsaturated and monounsaturated fats. When used as a replacement for saturated fat, they help lower low-density lipoprotein (LDL) cholesterol, a form of "bad" cholesterol that clogs arteries.
Unsaturated fats are commonly found in plants and vegetables. These are considered "good" because they play several beneficial roles. They can: ‌
Improve your blood cholesterol levels.
Ease inflammation
Help your heart's rhythm on consistent intake
Lower your chances of heart disease
Butter's "bad" fats. Butter is made from churned milk or cream, and the animal fats in it have higher levels of saturated and trans fats. These fats can lead to higher cholesterol, greater chance of heart disease, and lower levels of high-density lipoprotein (HDL) cholesterol — the "good" cholesterol that unclogs arteries. 
Saturated fats pop up in many foods, but most people get them from meat and dairy. While they impact "bad" cholesterol, about 5% of your calories each day should come from saturated fats.
Trans fats get even more complicated. Natural trans fats are found in meat and dairy, whereas artificial trans fats are used in fried foods. Both types can lead to heart disease and stroke when unrestricted in your diet. 
Sticks and Spreads
‌Margarine isn't always a healthier alternative. It is often supplemented with additional fats for consumer purposes. 
Unsaturated fats are liquid at room temperature. This is clear when looking at olive or canola oils. This type of consistency isn't great for baking a cake. 
Trans fats cause oils to solidify. This gives sticks of butter their shape and spreads their creamy consistency. 
‌Sticks of butter and margarine contain more saturated and trans fats. The stick shape is created by saturated and trans fats, which causes the health statistics to shift.‌
A serving of stick margarine contains around 2 grams of saturated fat and 3 grams of trans fat., while a serving of margarine from a tub contains 3 grams of saturated fat and no trans fat.
A serving of stick butter contains around 7 grams of saturated fat but no trans fat, while a serving of butter from a tub contains around 4 grams of saturated fat but no trans fat.
‌You can choose from a variety of light margarine, whipped butter, and low-fat sticks or spreads to help you manage your fat. 
(Some) Margarine Is Vegan
‌If you have dietary restrictions and need to avoid animal products, margarine can be a good alternative. However, always read the list of ingredients. Not every brand may be vegan.
Alternatives to Butter and Margarine
‌One area where most people refuse to switch butter for anything else is baking. Butter provides baked goods with rich color and a soft, moist texture. Margarine (unless it contains added dairy or fat to make it more like butter) doesn't provide the same tasty benefits.
However, with a bit of creativity in the kitchen, you can find a variety of substitutes for butter and margarine. ‌
Applesauce can substitute for many wet ingredients like butter or oil in baking.
Various plant oils can be used for cooking, such as avocado, canola, and vegetable oil.
Greek yogurt, which can vary in fats and other nutrients, can be substituted for butter while baking.